Oh Baby! Ripley's Believe It or Not! Orlando Now Has
Two Sets of Fertility Statues on Display
Ripley's invites would-be parents to put the statues to the test – for free!
Ripley's Believe It or Not! now has two sets of fertility statues on display to meet the demand from would-be parents. "Where are the statues?" and "How can I visit them?" are two of the most common questions to Ripley's corporate headquarters.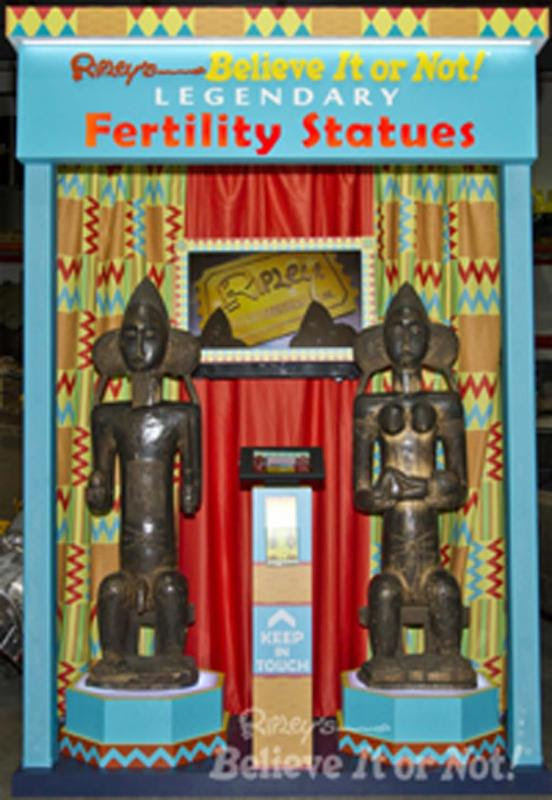 Ripley's original pair of Legendary African Fertility Statues is now on display at the company's 
Baltimore Odditorium
. This pair has quite a track record, having made three trips around the world and visits to every Ripley's Odditorium. It all started when the statues, hand-carved by the Baule tribe from Africa's Ivory Coast, arrived at Ripley's corporate offices in 1993. Within months, 13 women, including staffers and office visitors, were pregnant. Their legend grew as they went on public display and success stories poured in. More than 2,000 women credit touching these statues with helping them get pregnant.
Now, Ripley's has a second set of fertility statues from the same tribe and wants to put them to the test. This pair, recently found in Ripley's inventory, is now on display at Orlando Odditorium.
"We're inviting people to try out this new set of statues and let us know if they worked for them," said Joe Kasinski, Ripley's Orlando general manager. "We want to put them to the test and compare them to the original pair."
Ripley's is encouraging guests who touch the statues to share their stories by emailing TouchTest@Ripleys.com or using #TouchTest on social media.
Rachel credits Ripley's Legendary Fertility Statues with helping her get pregnant
Ripley's gathered hundreds of success stories during the Legendary Fertility Statues previous tours, like this one from Rachel T. of New Jersey. She had tried getting pregnant for three years with no luck, and fertility specialists told her there was no way she could conceive on her own. She made a special trip to Ripey's Odditorium in Wisconsin Dells, where the Legendary Fertility Statues were at the time. A few weeks later she was pregnant.
Jenna G. has similar story. She drove from Pennsylvania to Ripley's Atlantic City Odditorium to touch the statues after several months of unsuccessful fertility treatments. Three weeks later, she found out she was pregnant.
Hundreds of women have shared similar stories with Ripley's.
Both sets of Ripley's fertility statues can be seen – and touched – for FREE.
Follow us for more updates: